I wonder if there has ever been a climate so ripe for distraction. So much information coming at us from every possible lit-up screen. We are distracted by social media, by our phones, by unwelcome relationships, by our phones, by intruding thoughts and lusts and wants and needs, by our phones … we are distracted.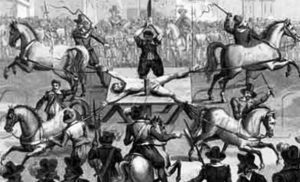 Listening to a message by Steven Furtick (Elevation Church), I learned something about that word — distraction. In medieval times, there was a barbaric torture tactic called "drawing and quartering." Each of a person's four limbs were tied to four ropes, and each of those ropes was tied to four horses, who were then commanded to run in four different directions. It was a horrible practice.
Do you know what the French called it? Distraction.
When I saw that image and heard that term, I thought, "That's it!" By making us rush to catch up, by keeping us in mental chaos, by luring us away from life-giving habits like what Methodists call the means of grace, by making us say yes to things we ought never say yes to, distractions rob us of rest and keep us from being formed into the likeness of Christ. No wonder one of the fruits of the Spirit is self-discipline. It is discipline that pulls the distracted parts of us back together.
We want to believe that the means of grace — or what you may know as spiritual disciplines — are for people who have too much time on their hands. Nothing could be further from the truth. Disciplines are precisely for people who have too much on their plate.
Listen: Who needs discipline when you've got nothing but time? Disciplines are not for people who have too much time; they for people who have too many distractions.
Let me say that again: Disciplines are for people who have too many distractions.
Disciplines bring the pulled-apart, conflicting parts of us back together again. They help us to live inside our limits so we don't end up without enough energy to take a shower much less spend time resting in the Lord. They help us become mindful of our day-to-day decisions and how they feed into our spiritual goals. They encourage us to create life-giving habits.
Which of these disciplines sounds completely foreign to you? Which ones might be a source of life and restoration for you? (
Bible reading
prayer
meditation
worship
community life (including accountability)
These are classic disciplines that shape our thoughts and set the tone of our day. They give us courage to say "no" more often so we can say a holy "yes" to things that feed our life in Christ. After all, God calls us to be conformed to the likeness of his Son, right? The means of grace are ways we can examine ourselves to see if we're on that track. We know our lives are being shaped into the likeness of Christ when our conversation begins to be transformed by love and our reactions are filtered through the Holy Spirit. We know it is happening when our calendars aren't so far beyond our limits that we can't rest in the comfort that God's got it.
Disciplines make busy people slow down enough to let their souls sink into Jesus. That's where the real spiritual work is done — in the secret place, where deep calls to deep. Disciplines don't promise to make our lives easier, but I can attest to this: they result in a kind of rest that pulls all the distracted, chaotic, directionless pieces of our lives together.
What are you sure of, and what doubts are creating spiritual anxiety?
What is pulling at you, and what distractions are keeping you from spiritual formation?
What does your calendar say about your life … and about how much you trust God?
How willing are you to make changes to your life not just for the sake of your own spiritual formation, but for the sake of others?