In this world we are like Jesus. – 1 John 4:17
I have posted this before but am thinking of it freshly this week as I travel in Thailand. As in the U.S., Thailand has no shortage of nail salons. In the U.S., I have a tolerate-hate relationship with those places. For many people, it is a treat to have someone else paint your fingernails and toenails, massage your feet and give you an hour in a gyrating chair. For me, that is an exercise in frustration. I just don't enjoy the experience. Where I live, almost all the salons are staffed by folks who don't speak much English and since I don't go often enough to know how to ask for what I want, I find myself feeling at first tentative and then exasperated before we even get started. And at the cost of a tank of gas or a meal out.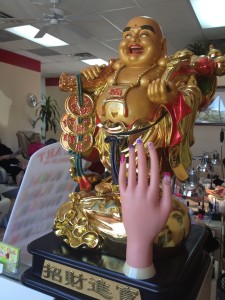 Nonetheless — illogically — about once a year I give in and go. Maybe it is the eternal optimist in me. This time will be different. The last time I made this annual trek to a nail place, I decided to strike up a conversation with the technician. She was from Thailand. She was friendly and chatty, and talked in English to me while she spoke in Thai to her co-worker. At some point, I asked what they were talking about. The technician shared that they were planning their evening. There was a dinner at the local temple, a potluck, and they'd all be going together. They were laughing about meeting men there.
It was the first time it had ever occurred to me that women like these might be part of a sub-culture in my community designed to maintain a religious identity. These women interacted all day every day with Americans but in their personal life, they maintain Buddhist traditions, look for Buddhist husbands, keep to Buddhist communities.
I am ashamed to admit I'd never considered before the spiritual life of the person doing my nails, though my faith calls that person to trust in Christ for redemption from this fallen world. I left the salon that day knowing that until my heart breaks for the spiritual care of the people in that place, I had no right to use them for my own luxuries.
Those luxuries are delivered to us by a remarkably diverse community. Consider this:
According to the 2012-2013 industry statistics published by Nails Magazine, 48% of nail professionals in the $7.47 billion American nail industry are Vietnamese Americans. The predominant religion in Vietnam is Buddhism.
More than 50% of Dunkin Donuts are owned by Pakistani or Indian franchisees. Pakistan is a mostly Muslim country; India's majority religion is Hinduism.
40% of all motels in the United States are owned by Indians (see above).
10% of American physicians are Muslim.
50% of lawn care workers and16% of lawn care business owners are Latino. Their religious backgrounds are likely varied; many will practice a version of Catholicism mixed with animism, voodoo, or ancestor worship.
While we are getting our nails done, lawns manicured and to-go coffees poured, we are coming face to face with the world's religious diversity. We may not even be aware enough of this reality to let our hearts become sensitized to the spiritual need.
This reality is both a blessing and a temptation. We are easily lulled into a comfortable numbness that lets us get our needs met while ignoring the spiritual care of a worldful of people. And yet, what potential! Industries full of religiously diverse folks provide us with a plethora of opportunities to open our hearts and care more lovingly for those who care for us. To treat them like people, not servants.
While you're considering who lives among us, consider how the rest of the world is experiencing religious diversity. The global Christian landscape is shifting. The following statistics come from Dr. Tim Tennent, president of Asbury Theological Seminary:
When William Carey went to India in 1793, 90% of all Christians were white and lived in the western world. Today, by a vast majority, the face of Christianity is non-white.
William Carey was a famous missionary in India. But the William Carey Memorial Church in Luster, England is now a Hindu temple.
The top two most receptive nations to Christianity are India and China.
At the turn of the twentieth century, nine of the ten countries with the highest rate of Christians were in Europe or North America. In 2009, only four of the top ten most Christian countries are in the west.
Meanwhile, this year the top ten most resistant nations to Christianity are all in Europe.
A Christianity Today article says that 85% of Yale's Campus Crusade for Christ are Asian while the Buddhist temple meetings on the Yale campus are exclusively attended by whites.
More Nigerians attend church every week than all the Episcopal and Anglican churches in the west combined.
China now boasts the fastest growing church in the world, producing 16,500 new Christians every day.
Africa, once called the missionary graveyard, is now the fastest growing church of any continent as a whole, producing 24,000 Christians every day since 1970.
The most representative Christian in 1909 was a 44-year old British male.
The most representative Christian in 2009 was a 24-year old Nigerian woman.
In this world we are like Jesus. In a world that's rapidly changing, God has chosen to let us participate in the coming Kingdom. It is a glorious invitation that leaves us with a choice: we can be fearful, turn inward and become concerned only with "me, mine, and our ticket to heaven"; or we can be fearless in understanding and engaging the world around us, becoming active participants in what Christ is doing right here to bring the Kingdom in.
In light of that invitation, I'm inspired to breathe this prayer: God, put to death any unholy ambition in me. Any ambition that makes me more interested in my own comforts than the salvation of others.
Amen. Let it be so.