Sam Pursley is standing today in the unhindered presence of Christ after living faithfully as a follower of Jesus and leader in His Church for 92 years.
Sam was one of those guys who had what my mother (who loved Sam dearly) would have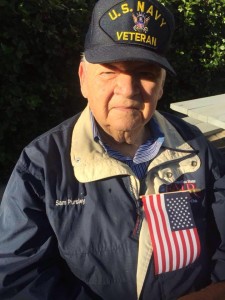 called a "bad case of the cain't-help-its" when it came to influencing others. There was a quality about him that went past his small stature and quiet spirit. He carried authority. He could hold his own in a roomful of executives and care gently and respectfully for those in the margins.
Sam loved a good cause and loved a lost cause even more. He saw the humanity in folks where others might miss it, and didn't actually think anyone was really lost. He believed people could change, given a chance, and that spirit compelled him to serve faithfully in challenging places. Who knows how many lives he profoundly impacted by his presence at Augusta Rescue Mission, Easter Seals, the Exchange Club, Gracewood, Regional Hospital … and any church of which he was a part?
My path managed to cross Sam's several times over the years. He was a voice in my life as a teenager and again when I was a young woman just coming back to Christ. He was a partner in my work as a fundraiser at Easter Seals and a dear, dear friend when I chose the path of preaching.
He was among the first with whom I met when I came home to start Mosaic. He was there for our first worship service, sitting on the front row beaming proudly. And he was with us just a couple of years ago when we celebrated our tenth anniversary as a church.
When Sam was in the room, I felt like a celebrity was with us. There are few other men I've respected as much and none I've respected more.
In our days of fundraising together for Easter Seals, Sam used to say to potential donors, "I want to give you an opportunity to expand your soul." And he meant it. He knew the power of giving and the connection between a generous spirit and what matters most in life. Sam's own story of learning to tithe is what inspired Steve and I to begin that journey. It was one of the greatest gifts anyone has ever poured into our marriage.
When we first started going back to church, we did what most people do. We dropped a twenty in the plate most Sundays. We were probably giving about 2% of our income to the church and to be honest, we felt good about that. We were renters and had credit card debt and owed on two cars, so giving anything was a stretch for us.
Then one day, Sam stood up in church and talked about that line from Jesus: "Give and it will be given to you, a good measure pressed down, shaken together and running over." Sam talked about how his grandfather would sell grain that way and how the farmers would tell him, "Mr. Pursley, you give good measure." Then Sam talked about the Sunday School teacher who taught him as a young man. She told him, "Sam, you will never be all you are supposed to be until you begin to tithe."
Sam asked her what exactly she meant by tithing and she said, "Ten percent. Tithing is giving ten percent of your income back to God. It is an act of faith." Sam says he then asked her the question we all want to ask. "Is that ten percent of my gross income … or net?" And she said, "Gross."
From that day on, Sam tithed. He would say that as he gave it was given to him, a good measure, pressed down, shaken together and running over.
We heard Sam's story in church one Sunday and when we got home, Steve said, "Carolyn, I think we ought to do it. I think we ought to give ten percent." I didn't see how that could reasonably happen but Steve was convinced by Sam's story so in one week, we went from giving about two percent to giving ten percent. We've done so ever since and live a joyful, debt-free life thanks to the wisdom and example of a godly man.
"The rent we pay for the little space we occupy on earth is the service we render to others," is something else Sam used to say. I give God such thanks and praise for the lives of the saints who live and serve among us, who pour into us and make us better people by their presence. Today, I celebrate the best of the best among servant-hearted men, whose expansive soul made room for countless acts of love and kindness while he "paid rent" among us.
Well done, Sam. Well done.