I'm thinking about the very familiar story in Luke, chapter eight, of the sower who goes out and sows his seed. He tosses it everywhere — on rock-infested ground, into weedy nooks, onto fertile soil, onto a well-worn path. The farmer just keeps tossing. I like picturing him as a happy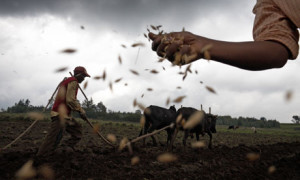 man, tossing away, humming something happy, watching the clouds as he tosses without the first concern for the seeds that fall in unproductive places. He doesn't weigh the seed or test the soil. He doesn't prognosticate about the probabilities. He just tosses seed and smiles.
Make no mistake: this guy is a farmer, not some crazy man who has no idea what he's doing. He knows the condition of a piece of ground when he sees it. He knows when the ground is hard. He knows the chances of something rooting in most of that soil are slim to none. But still, he just keeps tossing.
Hearing Jesus tell this story, I'm reminded of the time a woman crashed a dinner when Jesus was eating at the home of a leper (yet another thing to love about him). This woman who'd experienced great healing walked right into this person's house and began to pour very expensive oil over Jesus' head. This was once-in-a-lifetime oil. Precious and expensive. Far beyond her capacity to afford.
Someone said, "She ought not be wasting that expensive perfume like this. We could be feeding poor people with that money," to which Jesus replied, "The poor are not going anywhere. If we cash in this oil and use the money to feed poor people today, they will be hungry again tomorrow. Some things just are. The trick here is in understanding the moment. What this woman is doing right now — in this moment — is beautiful. It points toward Heaven. Meals last hours; this kind of adoration is eternal. From here out wherever the gospel is preached, what she has done will be talked about in memory of her."
He was right, of course. We're remembering her even now.
Her story and the farmer's both point to the same truth: resources are rarely the issue. In fact, our problem may be that we are not generous enough with our resources. In our quest for efficiency, we become stingy. We over-emphasize efficiency. We want the most bang for our buck, but it turns out that the Kingdom is not about efficiency. It is about effectiveness.
Extravagance.
Let me say that again: The Kingdom is more concerned with effectiveness than efficiency.
I suspect that far too often in this work of spreading the gospel of Jesus Christ, resources are not the critical issue limiting our effectiveness. Faithfulness is the issue. What confines and confounds us is the limit of our own imagination. We don't tend to honor extravagance, even when it is a holy extravagance.
I am not at all a fan of the prosperity gospel, but I do believe that we in the West don't trust enough in God's provision. God seems to have the ability to shift resources into the path of Kingdom work when people who are following Jesus step out in faith.
If you've been called to be a sower, you need to be tossing seed everywhere. Don't hold back.
Sow extravagantly.