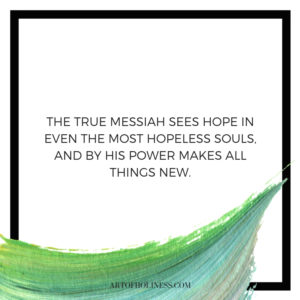 When Isaiah was deep into the work of penning a weighty bit of prophecy about the coming Messiah, he took time to describe how this Redeemer would deal with people. He said He would not break a bruised reed or snuff out a smoldering wick. Glenn Penton writes about this. In the days of Isaiah, shepherds would pass the time out in the fields by making a simple flute out of a reed. It was something to do, but also a kind of protection. They'd play it at night to let predators know that the sheep were not alone out there. But a reed flute being played by a boy-shepherd is not going to last long. It gets bent, stepped on, bruised.
Rather than trying to save a broken flute, the shepherd would toss it and make a new one. Same with their candles. They'd make cheap candles by floating a piece of flax in oil. Flax makes a great flame but when the oil gets low, the flax falls over into the oil and then you just get smoke. It is easier to make a new candle than to fish out a smoldering flax and repair it.
God told Isaiah we would know the Messiah by the way he treats the broken reeds and damaged wicks — the ones with personality disorders and bi-polar conditions and divorce and addiction and poverty. For all the world cares, reeds and wicks are disposable. "Toss these, and get new ones." That's the world's take on those who are banged up, stepped on, bruised. Face down and smoldering.
But that's not the way it works in the Kingdom of God. The true Messiah sees hope in even the most hopeless souls, and by His power makes all things new. He specializes in the reclamation of bruised reeds and smoldering wicks. He makes things and people work again.
And this is what makes Christmas worth doing. Because at its core, it is so much more than warm feelings, family dinners and big gifts. Christmas is God stepping in when all hope seems lost to rescue the ones the world would just as soon give up on. Christmas is for the people for whom the holidays are a stress because money was already tight and relationships were already strained before the holiday ever rolled around. Christmas is precisely for those who need a hope that doesn't make sense. Those people are treasures in the Kingdom of God and they are what make Christmas worth the time and "church" worth the trouble.
What a gift. What a joy.