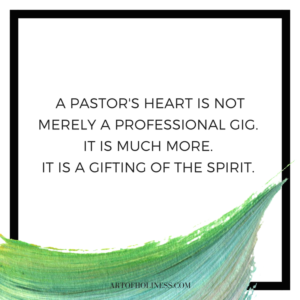 Can I let you in on something most pastors won't tell you? We cry over you … often. We spend nights awake for you when you're going through rough things, and we grieve some of your choices. We worry when we see you worried and we don't take it lightly when you're not in a good space. We pray … my goodness, we pray for you.
A pastor's heart is not meant to be "professional" — not in the strict sense of that term. We are not like your pest control guy or hair dresser (although I think my hair dresser would probably shed tears for me). This is not just a job for most of us; it is a gifting of the Spirit. Those called to the work of shepherding are given a burden for people. In fact, sometimes it feels like "all burden, no power." When pastoring is done well, it carries no manipulation or control, but does carry the weight of love for people. Good pastors are in this for your sake, not theirs, and so very many sleepless nights and tears bear witness to that fact.
That relationship between pastor and parishioner is meant to be a life-giving relationship — a true give-and-take. Done well, it ought to be a partnership with the Kingdom as everyone's goal. There are ways you can support your pastor so they can be in this for the long haul (and will be there for you when you need them). So what does a healthy partnership with a pastor look like?
Love them (but don't idolize them).
Pastors committed to community life want the relationships within that community to go both ways. Just as they love you, they want you to love them. But please … don't idolize your pastor. That man or woman is a fallen human being (just like you) trying to be faithful to God in an often-taxing and usually low-paying position. Making too much of their abilities will only make it harder on both of you when their disabilities are exposed. Make sure the grace flows both ways.
Expect holiness (from both of you).
A pastor is a fallen human being (just like you) trying to be faithful to God. In order to be whole and holy, they need the accountability of a community every bit as much as you do. A pastor who is not living a holy life should not be leading others spiritually. Period. Partnership means having both courage and compassion enough not to leave someone in the dark.
Give your heart (and expect them to give theirs).
Let me say it again: Good community life is a two-way street. Don't let your pastor get by with simply doing a good job. They are not there to fill a professional role only; that's not the nature of the Body of Christ. We are all in it to expose the deep love of God and advance the Kingdom. These are high stakes that demand our all. Expect your pastor to give not just time and talent, but their heart. Likewise, you must be willing to give yours.
Do your part.
Maybe there was a day when the expectation was for church people to show up for church on Sundays and make sure the bills got paid. Those days are over (and probably never should have happened). Good church is so much more than showing up for a sermon. It requires our investment at every level: time, talent, gifts, service and witness. Ask yourself:
How am I actively participating in building our sense of community — actively participating in a small group, praying for those who are sick and in crisis, even choosing my seat on Sunday so I encourage a sense of community?
Do I carry a sense of "welcome" into my community? Do I speak to newcomers before and after worship? Am I a better listener than talker? Do I engage people as people?
Am I allowing my heart to be broken for the things that break God's heart?
How am I personally invested — as a volunteer, as a giver, as a prayer warrior, as a worshipper? (Side note: uninvested people should not be making decisions for invested people.)
Am I committed to the biblical standard of tithing?
Do I serve in the place where I'm gifted?
Am I leaning in — participating wholeheartedly?
How am I growing spiritually? Am I in the Bible daily? Do I have a habit of prayer that cultivates my ability to hear from God?
Am I going after my own healing? Am I seeking out spiritual direction?
I assure you: this is the kind of partnership your pastor craves, because this is how the Kingdom of God advances. Peter teaches me that our chosenness is collective. In other words, we're all in this together. We determine the health and effectiveness of our faith communities as we fully partner with those who lead and take responsibility for our part. I challenge you to lean in and love the Lord with all your heart, soul, mind and strength … and love your pastor well by investing yourself in the building of a healthy spiritual house.