In Jesus' day, according to N.T. Wright, a man talking about building kingdoms was a man stirring up a revolution. Having endured political upheaval and oppressive rulers more than once, Israel would experience Jesus' call for a new kingdom as quite the revolutionary act.
In fact, it was, though not political.  Jesus' revolution began within the heart. His call was for people to overthrow the oppressive and self-seeking kings who ruled over their minds and hearts, usurping the place of God at the center. He called on people to rise up with the subversive act of repentance.
"Repent and believe," he proclaimed, "for the Kingdom of God is near."
Knowing that all repression and oppression have sin at their core, Jesus promoted societal transformation through personal transformation. Repentance was a call to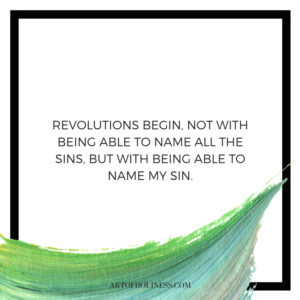 turn from self-centered, power-hungry behavior toward the life oriented around the values of a loving, good God.
Real repentance is a revolutionary act. It calls for death to self, It is what Jesus meant when he said, "If anyone wants to be my follower, he must take up his cross and follow me." To build God's Kingdom, we must be willing to die to self.
Of course, we'd rather receive death benefits without death, but there is no shortcut. Even Jesus asked on the night before he died if it could be done any other way. The answer was no. In order for true forgiveness to happen something had to die. There is no shortcut to fruitfulness. The path always runs through repentance, and repentance always calls for the death of anything that stands between us and God's best.
Repentance is freedom-producing. There is such freedom when I finally, fully speak aloud my own truth and discover God's response is not condemnation but grace. To speak your worst out loud and find that God has not wiped you off the face of the earth, but instead picks you up and carries you into the presence of Grace is the greatest freedom.
Repentance is the opposite of shame. Have you learned how to repent without humiliating yourself? Does your habit of repentance reveal a healthy understanding of the character of a loving God? After all, there is no shame in Christ. He is not afraid of our sin or our suffering. He wants to deliver us from it because he loves us. The more transparent we are with ourselves and Christ, the more likely we are to find healing in his wings.
Repentance is an act of honesty. Real repentance is the most truthful act we can enter into. It is not self-flagellation or self-hatred but the simple proclamation that my only way forward runs through a God who is both grace and truth.
Repentance does not generate self-hatred. To the contrary, it is recognizing that until I am honest about my own weaknesses, I can't be honest about my strengths. Some of us have lived in denial for so long we've forgotten what is true. Or if we are addicted, we swim in outright lies (this is a fundamental truth: active addicts lie). Our dishonesty creates a barrier to change.
Repentance creates change. It is not at all simply saying we're sorry. It is a personal decision to do things differently from this point forward. Repentance doesn't require me to have a complete roadmap out of this pit I've dug, but it does require me to want to get out of it.
Repentance is not the same as confession. It is the completion of it. Plenty of people have confessed to things they aren't sorry for. How many parents have forced unrepentant children to say "I'm sorry"? We're conditioned for this. But repentance is not God forcing me to say I'm sorry. It is my honest, transparent, humble recognition of sin as sin, followed by my desire to turn from it and move in a different direction.
I have discovered in my own prayers that there are plenty of things in my life that I can name, that I know ought to be different than they are … but I can't seem to change my direction. I lack the will or the "want to." In those cases, I have learned a new prayer: "Lord, repent me, for I cannot repent myself.  I cannot turn myself around. Only you can do that, Lord, when your Spirit chooses. Repent me, and make me new."  
Revolutions begin, not with being able to name all the sins, but with being able to name my sin.
This is where personal revolutions begin, according to Jesus: Repent and believe. A new Kingdom is near.