There is a quirky little documentary on Netflix called Jiro Dreams of Sushi.
It is about the life of this 90-year-old man who is considered the finest sushi master in the world. He owns a small restaurant in Tokyo that seats ten people. The wait for a reservation is about a year. He takes incredible care in the seating of the guests and the experience they have, but according to food critics who have been there it isn't exactly a comfortable experience. He serves one piece of sushi at a time and then watches you eat it.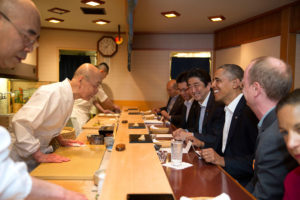 Those same critics would say it is the best sushi they've ever had. And every visit is better than the last.
It is a vocational hazard of preachers to look for sermons in movies (it ruins a lot of movies) and I am no exception. In Jiro Dreams of Sushi, I found not one sermon but two.
Jiro must be a good bit on the compulsive and perfectionist side; he is radically committed to discipline. In fact, he credits that as the secret of his success. He is almost machine-like in his work ethic. He never misses a day at the restaurant, even when there are deaths and disasters. Every day, get up and make sushi. Every day, perfect the process. Every day, be obedient to this duty to do this thing.
Jiro would make a great Methodist. Our contribution to the Body of Christ is our emphasis on sanctification through the spiritual disciplines.
In My Utmost for His Highest (which my husband calls "My Forehead for His Two-by-four"), Oswald Chambers affirms the importance of the disciplines in a life of faith. He would call it routine; I would call it discipline. He writes, "Routine is God's way of saving us between our times of inspiration." I would say,"Discipline is God's way of saving us between our times of inspiration … Do not expect God always to give you his thrilling minutes, but learn to live in the domain of discipline [Chambers calls it drudgery] by the power of God."
This is how Jiro journeyed from an abandoned childhood to the distinction of being called the best sushi master in the world. It didn't happen by accident or luck or even sheer talent. Jiro discovered this great secret: Discipline breeds results.
The documentary spent time exploring the great care Jiro takes in choosing the ingredients he uses. He is relentless in his pursuit of quality — only the best tuna, the perfecting of every element and ingredient.
Even in his own meals, Jiro only uses the finest ingredients. He allows himself only gourmet food, is determined to taste only the best of the best. By limiting himself to the finest, he says, he is developing a sensitivity to anything less. In his comments about a French chef he particularly respects, he notes with some envy, "If my palate was as sensitive as his I'd make even better sushi."
I am struck by that idea of a more sensitive palate. It occurs to me that maybe this is exactly what I've been asking for in this season of seeking a richer quality of faith in my life.
I am embarrassed to admit, actually, just how recently it has occurred to me that I ought to be praying for my own faith — for the character of it and the density of it and the life of it. It just hadn't occurred to me for far too much of my walk with Christ that if faith is all that connects me to Jesus and if faith is the only thing of any value I bring into my work, my parenting, my ministry, and if I can't conjure it up on my own because even my faith is a gift from God, then I had better start praying for it. I had better get to shaking the gates of heaven on behalf of my own faith, praying for God to give me more of it, to increase my heart for him and to have more of him in my heart.
I'd better start asking to trust God farther than I can see him … and then farther still.
Think of it like you're hanging over the edge of a cliff, and the only thing between you and a 500-foot drop is a piece of rope you're hanging onto. Don't you think, if that was your situation, you'd become very interested in the quality of that rope? Don't you think you'd be really grateful for the guy who was really good at rope-making and for the quality assurance manager who inspected that rope for flaws? If that rope is all there is between you and death, don't you think you'd be praying like crazy for that rope to hold?
If I want to see beyond my present circumstances, if I want to detect the great moves of God, if I want to be able to trust what I cannot see, then I'm going to need a faith that will hold me between the high points.
I need a more delicate spiritual palate. This is my confession and my prayer.
Why? Because Isaiah tells me God is doing new things all the time. God is making a way in the desert and streams in the wasteland. But if I can't sense it — can't taste and see that the Lord is good — then I will miss out on the delicacies of the Kingdom of God.