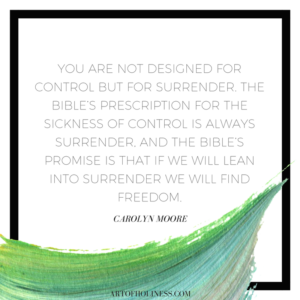 We are funny people. We hate to be controlled and we do not like people who try.
If you are a controlling person, it is maddening to be told you're a controlling person.  You want them to take it back and you will work at it until they do. If you want to make your spouse crazy, tell them they are controlling. They'll spend the next thirty minutes making you take it back.
This is what makes the terrible twos so terrible. The main job of a two-year-old is to figure out who he is by testing the waters. He may not have the vocabulary for what he is doing. You won't hear a two-year old saying, "Please pardon me while I test the boundaries of our relationship, but I am self-actualizing and need to figure out just how much of this family I'm in control of." He won't say it that way but he knows what he is after. He's after power. Just how much control can I get of these two people who are raising me? Where are the lines, and can I redraw them so they include everything I want?
That's how we learn even in adulthood what we can control and what we can't. We learn by pressing the limits and like a two year old, our goal is to control everything we can. We want to control our finances, our futures, our families, our pets, our children, our jobs, our schedules … everything.
We want control. That is the fallen human condition and the motivation for all spiritual rebellion. We hate it when we see control-freakishness in anyone else because their need for control might mean we have to give up territory.
But here's the ultimate irony. To the extent that I try to get or keep control, I will work against my God-given design and end up owned by my own rebellion. This is because I am not designed for control but surrender.
Let that sink in: You are not designed for control, but surrender.
We find proof of this over and over in the story of God.
God told the Israelites, "If you want freedom, you have to leave what you know and head for the desert."
Jesus told his followers that if you want to gain your life, you have to lose it. "What does it profit you," he said, "if you gain the whole world but lose your own soul?" (Mark 8:36)
The Bible's prescription for the sickness of control is always surrender — often defined in the scripture as a call to wholeheartedness — and the Bible's promise is that if we will lean into surrender we will find freedom.
So here's the question: In what area of your life do you need to loosen up and let go of control? Because when we choose surrender over control, we are choosing peace over anxiety.
What do our anxieties and fears drive us to control? In my next post, I'll talk more about why we choose control over surrender, and how we can recover a surrendered — and healthy — life.